I want to share this beautiful text with you from Leslie Dwight:
What if 2020 isn't cancelled?

What if 2020 is the year we've been waiting for?

A year so uncomfortable, so painful, so scary, so raw –

That it finally forces us to grow.

A year that screams so loud, finally awakening us from ignorant slumber.

A year we finally accept the need for change.

Declare change. Work for change. Become the change.

A year we finally band together, instead of pushing each other further apart.

2020 isn't cancelled, but rather

the most important year of them all.
On this 5th June Belgium is getting more and more out of confinement, like most of Europe. We still have to do some social distancing, but from Monday on restaurants and bars can open with certain conditions, and we can see more people. But I don't want to go "back to normal", because the "normal" we had is destructive for most of us… Destructive for health, for nature, for pollution and well being. "The normal situation" we had before the virus is unfair and unequal for the vast majority living in poverty.
Let's be the change we want to see in the world.
Personally I decided to have a change from how I was living before the lock down. That was a lot of work, parties, travels, city trips, not enough sleep,…. I was always running, doing several things at the same time, multitasking…. No time to do anything properly. I want less pressure, more mindfulness, more time for everything, and I'm thinking about how I want to live, and what's really important. Which people are really important? Which activities do I want to spend time on and which not?
The first sketching I did outside last week was in nature: in the botanical garden in Meise and in the garden town "Le Logis Floréal" in Brussels.
One of the most consoling aspects of natural phenomena (whether it's an animal, a tree or a valley…), like Alain de Botton writes  in his book "The Meaning of Life", is that their meanings have nothing to do with our own perilous and tortured priorities. They're unconcerned with everything we are and want, or everything that 's expected of us. When I see some beautiful and majestic trees, I feel calmed, because my troubles seem unimportant. They don't care about the jeaIousy I felt towards a colleague, or my stress in the office. Like a good friend of mine always asks me when I'm nagging about something: "seen from the moon, is it important?"
Here I share a video with you. I hope you like it. I made the drawings of the trees in pencil, and the houses in ballpoint pen, so to have a different texture for the natural elements. The pencil gives it a more rough and natural look and makes the tree come forward. I use my pocket palettes which I always take on travels, and my travel brush.
Tell me in the comments below if you have any questions!
And I started some meditation also. I find that meditation is an activity very close to drawing. When I'm drawing, I sort of come in a meditative state, in a flow… So I decided to organize a workshop with a friend on the weekend of 1st and 2nd August where we will meditate and draw. She organizes the meditation and I'll coach the drawing session. We will draw in nature. It's in a lovely place in nature just outside of Brussels. If you're interested you can look at the program and the tickets here . You can come for 1 day or for 2 days.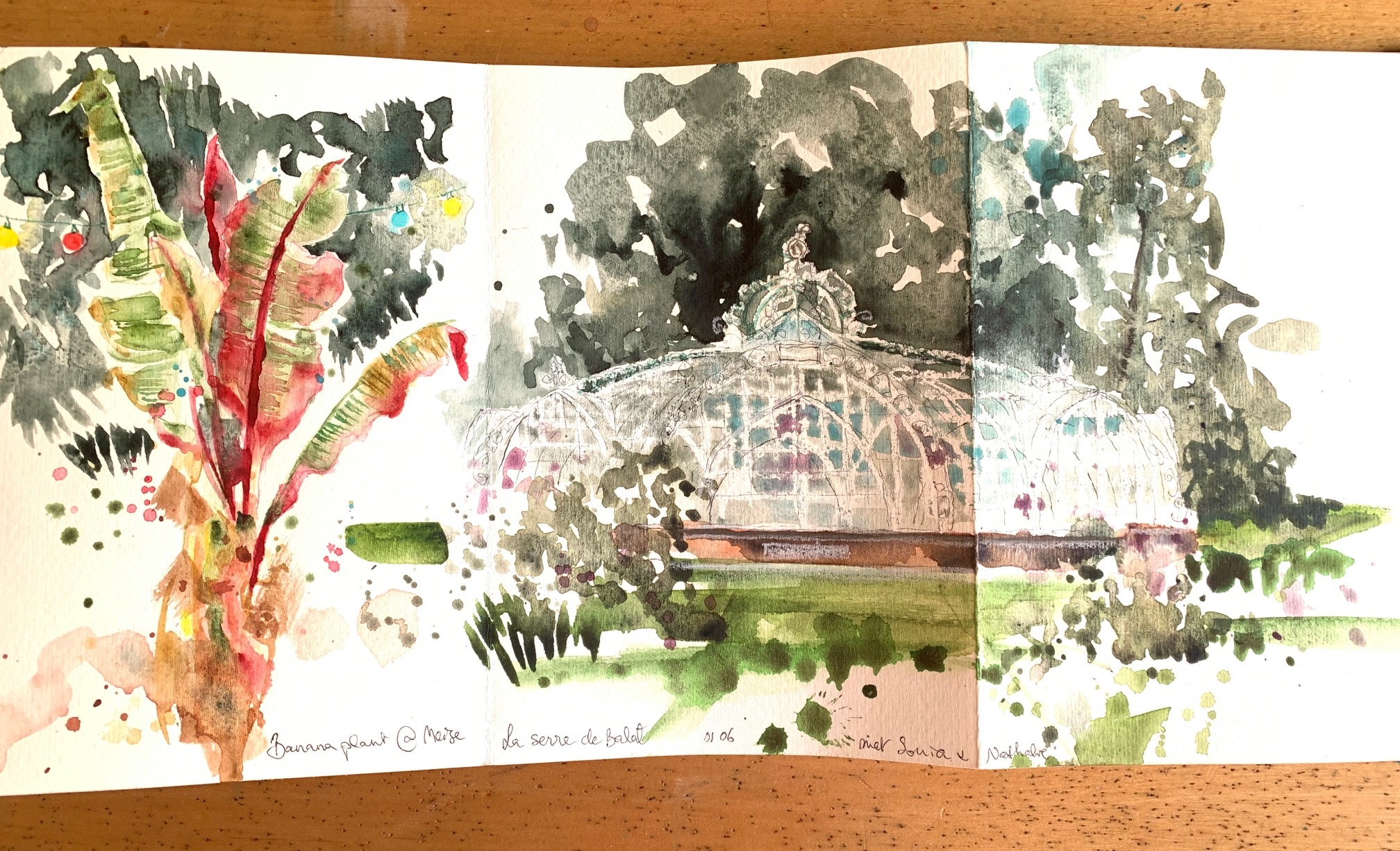 Happy drawing and painting and take care
Love,
Barbara