Half of the fun of a holiday or of a happy event is the time before: the joy of imagining the journey, the joy of the preparation and the planning part. I find it actually often more fun than the trip or holiday in itself. My imagination is often more powerful than the real event 🙂
Now I'm preparing my art supplies for my trip to Manchester, to go to the urban sketching symposium. The Symposium of the Urban Sketchers is a gathering of urban sketchers from all over the world, with conferences, workshops and sketch crawls. A lot of fun! Everybody is welcome! www.urbansketchers.org
Here is what I've packed already: as I have an addiction for art supplies this is the most fun part! I have a ton of art supplies at home so the trick is to reduce the amount in my luggage so that my bag won't get too heavy… Half of what I take I won't be using anyway!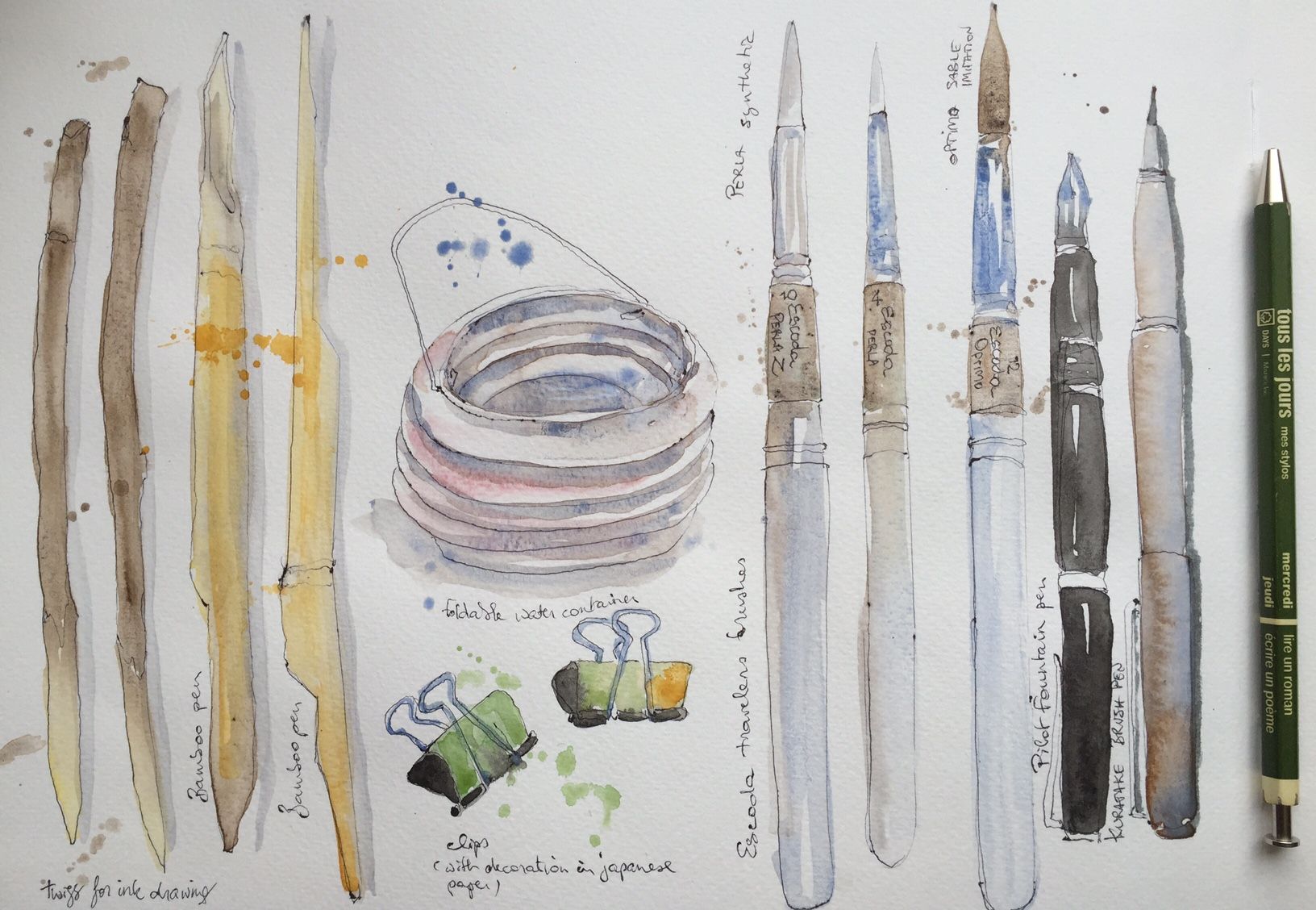 dry twigs for the sketching workshop with Kiah Kiean Chng. I just gathered some twigs in the forest near my home, not knowing what kind of twigs he uses. When I see his fantastic drawings I am very curious if these magic twigs will improve my drawings to make them look like his!!? 🙂
Bamboo pens
a soft pencil: a 2B pencil. I prefer soft greasy pencils (B, 2B, 3B…) over hard pencils (HB, H, 2H….)
travel brushes with a cap: these are  synthetic Escoda brushes and a sable travel brush (well I think it's imitation sable brush)
a Kuratake brush pen for Veronica Lawlor's work shop. Personally I never use brush pens but it's on her art supplies list. Again: if that magic brush pen can make my drawings look like her fantastic drawings I will be happy… !!! That's the magic of workshops: trying to imitate the style of the teacher to broaden your skills and open your mind…
a Pilot fountain pen with waterproof Noodler's ink
brushes with a water container for painting inside museum. They don't like when you carry water bottles…
my Pocket palettes. The blue-green one has tube paint of Winsor & Newton Artist's quality: Ultramarine blue, cobalt bleu, Dioxazine Violet, Perylene violet, a grey mixture with orange and blue, Neutral tint, Light Turquoise, cerulean blue, green earth, olive green, sap green and Light ochre and finally perylene green.And the red one has potter's pink (Winsor & Newton), Rose Madder Genuine (Winsor & Newton), burnt sienna(Winsor & Newton), light red (rouge Anglais)(Winsor & Newton), raw umber(Winsor & Newton), burnt umber(Winsor & Newton), sepia(Winsor & Newton), transparent yellow (Schmincke), Yellow ochre(Winsor & Newton), naples yellow (Winsor & Newton), transparent orange (Schmincke), Cadmium red (Winsor & Newton), Alizarine Crimson (Winsor & Newton). You can find more information here:  one with reds and browns and one with blues and greens
a foldable water container
a water spray
a sponge
clips to hold the paper
a sketchbook of course 🙂
loose sheets of paper
watercolor pencils and watercolor sticks for my workshop with Veronica Lawlor
indian ink to draw with the twigs and an empty plastic bottle
a ball point pen
a foldable stool
and … dark Belgian chocolate 🙂 my other addiction… !
But I'm not ready packing yet! There's more to come.
What are you taking on your next trip?
Have a happy summer!
love,
Barbara