Today, 21st September,  is International day of Peace, but also World Alzheimer's Day !
My grandmother on my mother's side suffered from dementia. (Alzheimer is a form of dementia)
As you read probably on my website, I volunteer in an art workshop for people with dementia.
Caring for them doesn't have to be pain alone. There can be joy as well…
Drawing and painting are universal languages, and kind of a meditation! The people who come to my workshop cannot talk any more but when we make art together, we are in strong connection and communication with each other and we do have a lot of fun!
The mission of the workshop is: To give people suffering from dementia a possibility for communication, a moment of resourcing, as well as human connection and dignity. Human connection and dignity is difficult to find in the world with dementia.
When my grandmother was not able to live at home any more she ended up in hospital and at the end in a horrible old people's home where she wasn't well taken care of. And nobody helped us to communicate with her. There's still a big taboo about the illness. It makes people uncomfortable. That's a pity and a shame.
A couple of year's after she died I discovered a whole other side of caring for people with dementia. A human way, where there is respect, patience and even joy !
Joy can be found in human contact and music and art are an easy way to get that contact.
Especially music is very healing.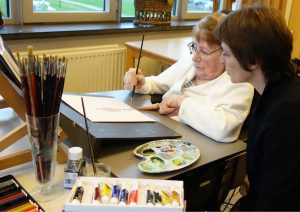 Here I want to share with you some other communication tips, inspired from a dutch poem by MC Eberhart. But it's so true:
When I go wandering around. Let me go. Don't force me to sit down. Let me stand and walk around
When I ask for my mum, don't tell me she's dead. Hold my hand, and ask me for her name
When I'm angry, I don't want medication. I want you to listen to my voice and take your time.
When I don't want to eat any more, it's not because I'm not hungry. It's because I forgot how to. Show me how you do it…
When I don't want you to help me washing myself and getting dressed, it's not that I want to be dirty. It's because I forgot you offered me your help.
Just keep repeating what you're going to do, keep warning me what is coming next, and maybe you even get a kiss 🙂
If you have empathy, and look with patience what I want to say, maybe you'll even find out how I feel
I have an illness, you know, called Alzheimer. Now I still remember, but tomorrow I'll have forgotten it.
Tell me, and I'll forget.
Show me, and I'll remember.
Include me, and I'll understand
If you have stories to share, please leave them in the comments below
Love,
Barbara
PS: Do you know Henry?