Excitement excitement!
The whole Urban Sketching world is counting the hours left to the subscription time op this Saturday at 15:00 GMT for the next international symposium : The 9th International Urban Sketchers Symposium will be held in Porto, Portugal, July 18-21, 2018. Sketchers of all levels, experience, and backgrounds are welcome.
In my quest for creativity stimulation I can't leave out this event!
What is the Symposium? It is the "Creativity-Mecca of the Universe" !!!

"The International Urban Sketching Symposium is an annual educational event organized by Urban Sketchers (USk), a nonprofit dedicated to fostering the practice of on-location observational sketching. The goal of the Symposium is to celebrate and practice the art of on-location sketching in the host city. The event offers valuable field-sketching instruction and opportunities for participants to network and socialize. Following our spirit of "sharing the world, one drawing at a time," we aim to bring the Symposium to new cities and countries every year. Portland, Lisbon, Santo Domingo, Barcelona, Paraty, Singapore, Manchester and Chicago have hosted previous editions of the Symposium."
A quick information for those who don't know the Urban Sketchers yet: "We are an all-volunteer nonprofit dedicated to fostering a global community of artists who practice on-location drawing.
Our mission is to raise the artistic, storytelling and educational value of on-location drawing, promoting its practice and connecting people around the world who draw on location where they live and travel."
The manifesto of the Urban Sketchers tells it all:
We draw on location, indoors or out, capturing what we see from direct observation.
Our drawings tell the story of our surroundings, the places we live and where we travel.
Our drawings are a record of time and place.
We are truthful to the scenes we witness.
We use any kind of media and cherish our individual styles.
We support each other and draw together.
We share our drawings online.
We show the world, one drawing at a time.
I think these events are the "Creativity-Mecca of the Universe" so get your art supply tools polished and go over there if you have the possibility.
Why? Because:
you'll get out of your comfort zone many time, which is necessary to progress in your drawing skills
you'll meet hundreds of people from all over the world, which is heaven for your creativity stimulation (in Manchester were about 500 people from about 80 different countries if I remember well)
you'll be able to choose among 36 different workshops from teachers who all have their own drawing style! I strongly advise to choose a drawing style that is as different as possible from your own so you'll be able to stretch your comfort zone in a maximum way (Aww! This is a strange sentence… :))
Try new ways of seeing and try new ways of putting it on paper!
Porto is a magnificent city with great food and great people! I love Portugal…
and last but not least: the urban sketching community is one of the most loving and most generously encouraging communities I know (compared to other artistic communities where jealousy and competition are often prevailing…)
Here's the link to read more: Porto
Hope to see you there!
Love,
Barbara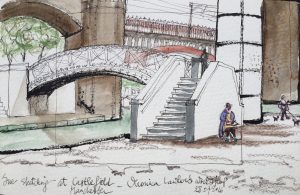 A sketch from Veronica Lawlor's workshop in Manchester
Manchester July 2016