♥ A very happy new year to you all ! ♥
I wish you a lot of creative challenges, and time for what's important in your life!
Personally I try to disconnect from my phone and computer even more, to be able to draw and paint more. I'm working on a book with my sketches from Japan. 😊
It's energizing to have a project to work on. Besides, when I didn't have my book, I invented projects for myself 😉
I'm also very excited by the upcoming Urbansketchers symposium in Amsterdam in July : http://www.urbansketchers.org/p/usk-amsterdam-2019.html
Last year in Porto was fantastic: we were over 800 urbansketchers from 46 different countries!
In this world where politicians built walls, people from all over the world prefer to build bridges, with art as a universal language.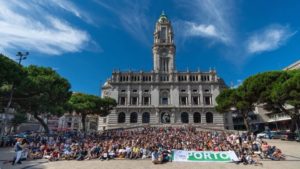 Drawing is a universal language! We all want to make the world more beautiful and for that we encourage each other to draw more, to push our sketching boundaries ( isn't it, Isabel ? ;))
Since I started urbansketching when I discovered Flickr about ten years ago, a whole new world of positive creative energy opened my art world. The urbansketching world freed myself from nasty comments and nasty monkeys in my head saying my watercolors were amateur work and I couldn't seriously show this to the world? I learned to love my "mistakes" because they make my sketches come to life. It also bit by bit, with a lot of work, set myself free from trying photo realistic art work. Now I say to myself I should stop trying to be a copy machine, and look with beautiful eyes to the world around me to draw what's interesting to me.
What do you want to tell with your drawing? Do you love your mistakes? Reham Ali says so well they're our babies.
Sketching together with this community made painting joyful for me instead of stressful, because I never noticed nasty judgments from fellow sketchers towards what I was making. We lift each other up, encourage each other to do more and try better, and learn new techniques from each other.
We don't need to put the others down to look better ourselves because it doesn't work that way and doesn't make you feel good on the long run.
Do you feel like coming to experience the symposium in Amsterdam: get ready to register on 2nd february!
And tell me: what are you going to do to make this year a great year?