It's summer ! I love that time of the year because it's a time where people get some sunshine and are more smiling 🙂 The light gives me energy! It's also time to slow down for a lot of people, because it's hot, and the schools are closed, so the cities are more calm…. And maybe it's time to do some art workshops if you have holidays? How do you choose which art workshops will improve your art skills?
And it's the time for preparing for the Urbansketching symposium ! Are you coming to Amsterdam this year? If not: you can get inspired also at home, by watching the sketches everybody will post on social media! Sharing one drawing at a time….
I love the symposium because it's an unbelievable meeting of creativity and positive energy, from at least 46 different countries last year, just happy souls gathering together to make art and relax ! In this world where everywhere in the world a lot of people build walls, we'll build bridges by this universal language that's drawing and art…
I subscribed for 3 workshops and a demo! I love taking workshops to stretch my sketching boundaries and force myself to try out new ways of drawing ! It's a great way to get more relaxed in different drawing techniques and it's also always great to meet new people! When I do a workshop, I do it all the way, following every bit of instruction the instructor is giving me. Also: don't forget to read well the list of materials the instructor advises to bring. Well, without necessarily having to buy everything new of course. It's no big deal if some pens or some colours you use are different…
Here are the workshops I'm going to do:
On thursday morning I'll start with a watercolour windows workshop with Paul Wang. Also if you're around Belgium on the 3rd of August you can join his workshop in Antwerp! And on The 4th August we organize a free sketchcrawl with him in Ghent, Belgium.
Paull is known for his loose colourful watercolour sketches.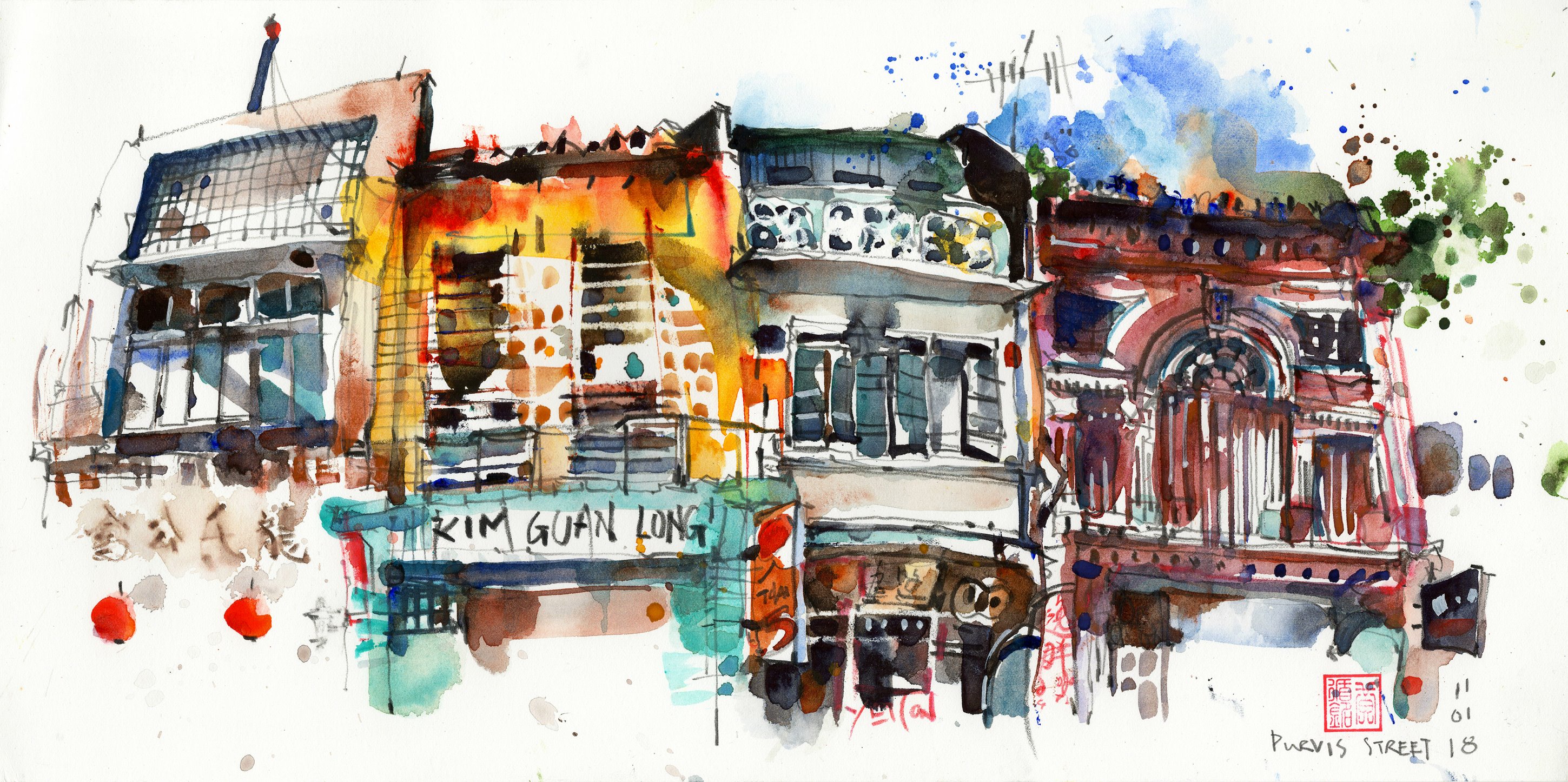 On friday morning I'll do a workshop with Pat Southern-Pearce. Also Pat is coming to Belgium to give a workshop. That'll be in september, on the 12th and 13th. There are also still some place left! She's knows for her colourful drawings with mixed media and beautiful elegant lettering! And on 14th and 15th September Pat will be giving free demos and will be sketching with us during Brussels Heritage Days!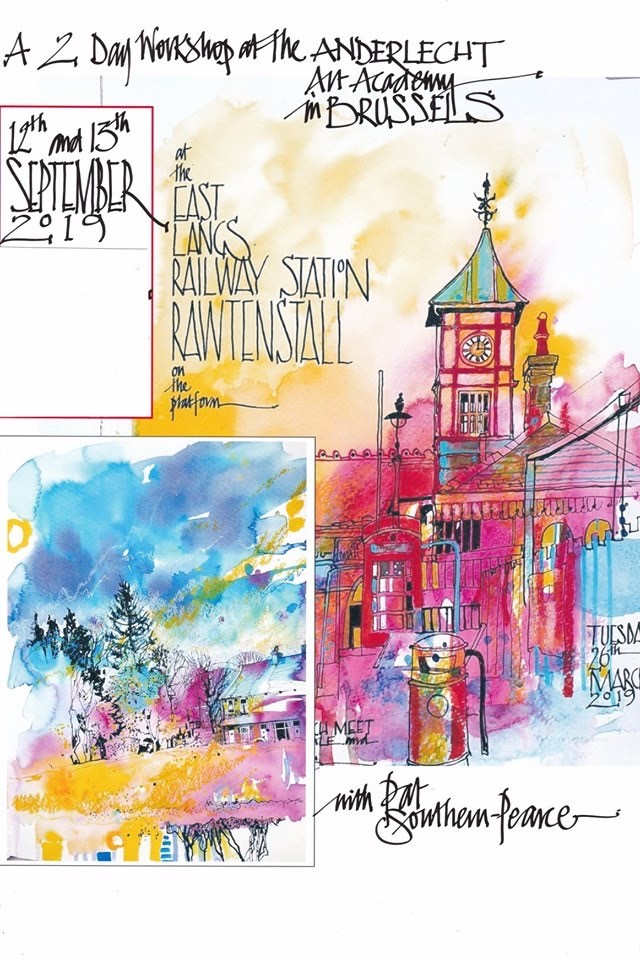 On saturday morning I managed to get into a workshop with Veronica Lawlor. She's known for her great reportage drawing. I love Veronicas energetic drawings particularly.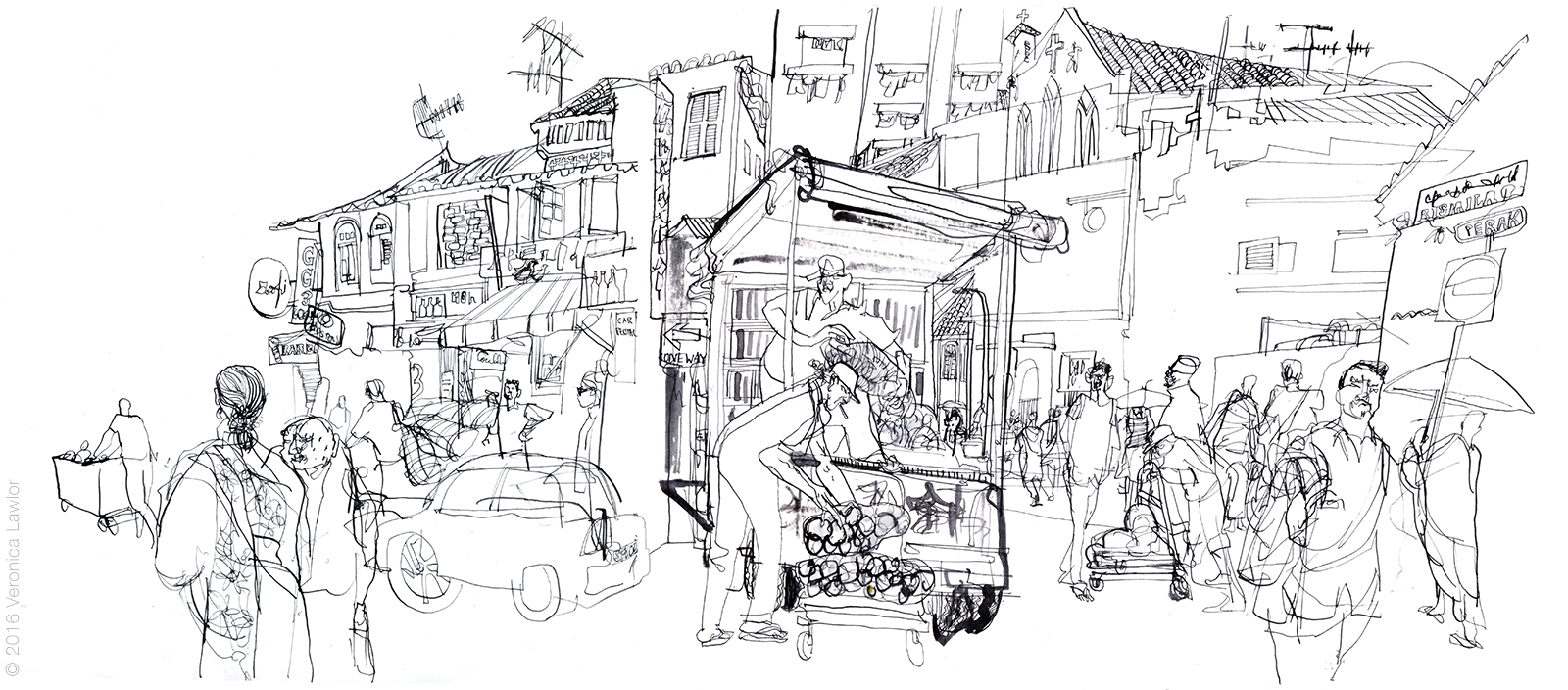 And finally on Friday I subscribed for a demo with Hugo Costa: "Amsterdam Rooftops". I don't know Hugo's work very well yet, so I'm really curious!
Generally, when choosing workshops, I choose artists that have a very different way of drawing then me, to make sure I'll stretch myself really well! And of course I only choose workshops with artists whose work I admire… So I hope some of their work will drip into my own drawing style… drip drip drip… 😀 
What about you? How do you stretch your creativity? What inspires and motivates you to try out new drawing techniques and how do you learn new skills? 
Tell us in the comments below to inspire fellow sketchers and wishing everybody a happy summer and happy sketching!