Last week I organized an urban sketching event for the local cultural center, so some students never had been urban sketching. There was a lady who hadn't been drawing since years. Actually to be more precise: since she was a child, some 30 years ago… It took her a lot of courage to show up and to start drawing again. We went sketching in a rose garden in the nearby park. After some uncomfortable try outs and some paper thrown away she did it ! She made a drawing again !
This makes me think of the fact that, to be able to grow, or to make progress in something and to learn something new, we need to get out of our comfort zone from time to time.
To make progress in drawing, and to free your line, you also have to accept to get out of your comfort zone.
I feel like I'm really stuck into routines lately, so I decided to go to Rome for a month to learn Italian.  I'm really nervous about it because I go on my own. Nervous to leave my husband and to leave my cat… 😉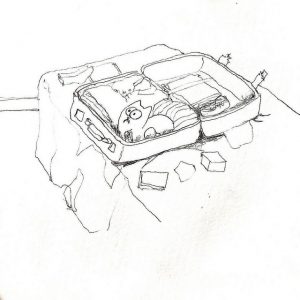 No I'm not just afraid of going on a trip on my own. It's also about very complex feelings of guilt and stress: my monkeys in my head beating me up: packing my bags and leaving home always brings up tons of questions as well as fear. My inner critic cries out loud that I should stay at home, work a bit more. Did I work enough to deserve this holiday that costs a lot of money? And as I pack my art supplies my inner critic shouts out loud: "what's the use of packing all these stuff to make these ridiculous sketchbooks. You can't make a living out of that anyway. What's the use of making art? Make yourself useful instead and read some intelligent books to earn a living".
And as I pack my bags I'm also afraid of missing out something that will happen in the office while I'm away,… FOMO! Actually I'm packing my bags full of fear! Fear of missing out, fear of making a fool of myself drawing in public, fear of making "bad" drawings …
What or who should you be afraid of, your enemy…? The one we're afraid of is with us all the time: your inner critic who tells you you're not good enough.
So: getting out of your comfort zone should be very easy!
But how about getting out of your comfort zone to free your drawing line? When we don't feel comfortable we're being a perfectionist: we want to make a "correct" drawing of what's really there. When we do that we'll quickly get lost in details. Instead try this:
1. Make yourself comfortable: wear comfortable clothes in which you can easily move. Relax and empty your head before you start drawing or painting. Breathe.
2. Don't start drawing everything you see. Try instead to capture a feeling or a part of a story: capture an atmosphere or an attitude. Adapt your drawing and writing to your feelings of the day
3. Maybe the most important: don't be afraid to fail or to make an "ugly" drawing! If you don't like what you made: start a new one
4. Accept the coincidence or the accident of what's happening in your drawing and painting and just continue to draw and paint until it looks good for you. In the beginning it always looks clumsy, but when you continue on the move, treasures will appear. Dare to surprise yourself. Don't use the eraser!

5. Just do it!
Try out different drawing materials to find out which ones suits you best. It's important to try out and find good drawing materials with which you like to work. It doesn't have to be expensive. Here are the ones I like most for the moment: my pocket watercolor boxes with Winsor & Newton paint, 2B (greasy, soft) pencil, ball point pen, twig and Chinese ink, and 300 grams rough watercolor paper (Arches or Saunders Waterford) and Watercolor Moleskine.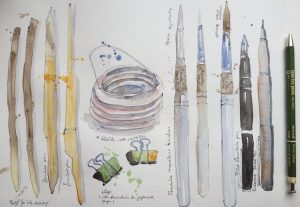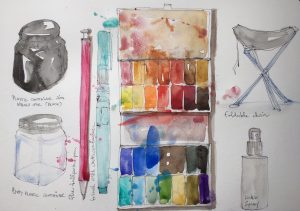 And most of all: enjoy !
Tell me in the comments below: which is your biggest obstacle for the moment to make progress in your drawing?
Love,
Barbara
PS: Please share this with your friends if you think they'll like it