On the last week of the year I'm always taking time to reflect on the past year and on the coming year. It's the slowest and most busy week of the year, where I end up puzzled for not having done what I wanted to do.
I found a nice list of questions to reflect on the past and the new year and great tips for a creative 2022 I want to share with you!
Some general questions: 
How did you change the most this past year?
What did you discover about yourself?
what was the most challenging for you What did that teach you?
What was the most memorable for you? Why?
What tiny or big steps can you celebrate from the past year?
what are you leaving behind in 2021?
What do you want more of next year? And what do you want less of?
What will you regret not prioritising in 2022?
What theme or words do you want to guide you in 2022?
I think I want to be guided by the words "play" and "joy" !
Next I want to share with you these great 4 ideas inspired by a video from artist Ian Roberts for a more fulfilling artistic year:
PRACTICE ! 
Practice your skills and your drawings and paintings will improve fast and dramatically! It's not about talent, inspiration and creativity! It's all about SKILLS that you can PRACTICE. Like when you learned how to write. You learn how to draw and paint. Inspiration will come, but it has to find you working and practicing.
PRACTICE DELIBERATELY!
Which skills do you want to improve? Figure drawing? Painting trees? Houses? paint with more color intensity? Improving shadows? Then practice that! Don't avoid it. Recognize the gaps in your abilities and practice those.
Forget about style!
We tend to spend a long time looking for our own "style". I've spend years imitating styles of other artists that I liked and tried to attach those skills to find my own style. It improved my skills, but it didn't help me to find my style because I ended up being a pale copy of those other artists. 
Your style will develope when you pay attention of what really draws you out into the world and what you want to express. Find the skills to express that and the tools you enjoy most using, and your style will grow organically that way.
PAY ATTENTION to your artistic and poetic sensibility
take time to really LOOK and SEE the world. What moves you? What makes you happy or what makes you feel vulnerable? Draw and paint it. Paint what you really see and how you see it, with the colors of your emotions. Find a way to give some personal expression to what you see.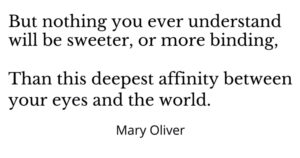 The year 2022 is already shaping up to be another year under the sign of this pandemic, but also with a beautiful creative energy. Let's continue our work with joy and let's stay curious and be a little crazy, let's work seriously but without taking ourselves too seriously, let's take time to play!
I wish you a very beautiful and happy year 2022.
Take good care of yourself and your loved ones.
Below I share a watercolor tutorial to inspire you for your next painting 🙂
Much love
Barbara